Restoration & Conservation
Fire Recovery & Resilience Efforts
Elementary students and their gardening teacher, Tina Thomas, at John B. Riebli Elementary School in Santa Rosa are growing oak trees from acorns collected immediately after the October wildfires. The Laguna Foundation helped support this worthwile project by donating a nursery shade table, pots and potting soil to the school.
Nearly one-third of the students at John B. Riebli Elementary School lost their homes in the Tubbs Fire. These young students are helping to rejuvenate their community by giving the native oak seedlings to their families and neighbors to plant in their neighborhoods next winter. Thank you!
We working as part of a greater fire recovery collective to develop a clearer understanding of the ecological impacts to the land and to help with replanting native species on fire impacted properties. Click here for more information.
KRCB Radio, April 2018
"Replanting Local Native Plants On Your Property"
Interview with staff member Brent Reed about our Fire Recovery & Resilience Program.

---
San Francisco Bay Joint Venture
"Wetlands Restoration IS working in the Laguna de Santa Rosa"
Video produced March 2018
Virtual tour of this amazing 22-mile long wetland complex in Sonoma County.
KRCB TV, Channel 22
"North Bay Bountiful: Groundwater"
Video produced March 2018
Includes an interview with staff member,
Dr. Wendy Trowbridge.
Community Education
ALBATROSS Film Screening
Thurs., Aug. 23, 7:00-9:00pm

Around Your Watershed
Help Us Kick-Off Our 2018-2019 Laguna Stewards and Garden Volunteers Seasons!
We are kicking-off our 2018-2019 Laguna Stewards and Garden Volunteers seasons in September! Join us for a morning of stewardship and camaraderie at either event - or both if you are feeling extra helpful!
Garden Volunteer Day
Friday, September 7, 2018 9am – noon
Laguna Stewardship Day
The Great Laguna Cleanup
Saturday, September 15, 2018 9am – noon
---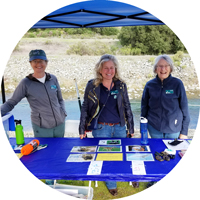 Connecting with Our Community at Local Events
Over the past four months, trained volunteers hosted our outreach booth at 11 local events including farmers markets, festivals, wineries, open houses and schools. At these local events, our enthusiastic volunteers introduced hundreds of people to the wonders of the Laguna de Santa Rosa and the work of the Foundation.
We look forward to hosting more outreach booths this summer at music concerts, science fairs, plant sales and plant nurseries, plus more farmers markets and open houses. If you see our booth at one of these events, please stop by to say hi and learn more about your watershed!