Banner Photo by Jerry Dodrill.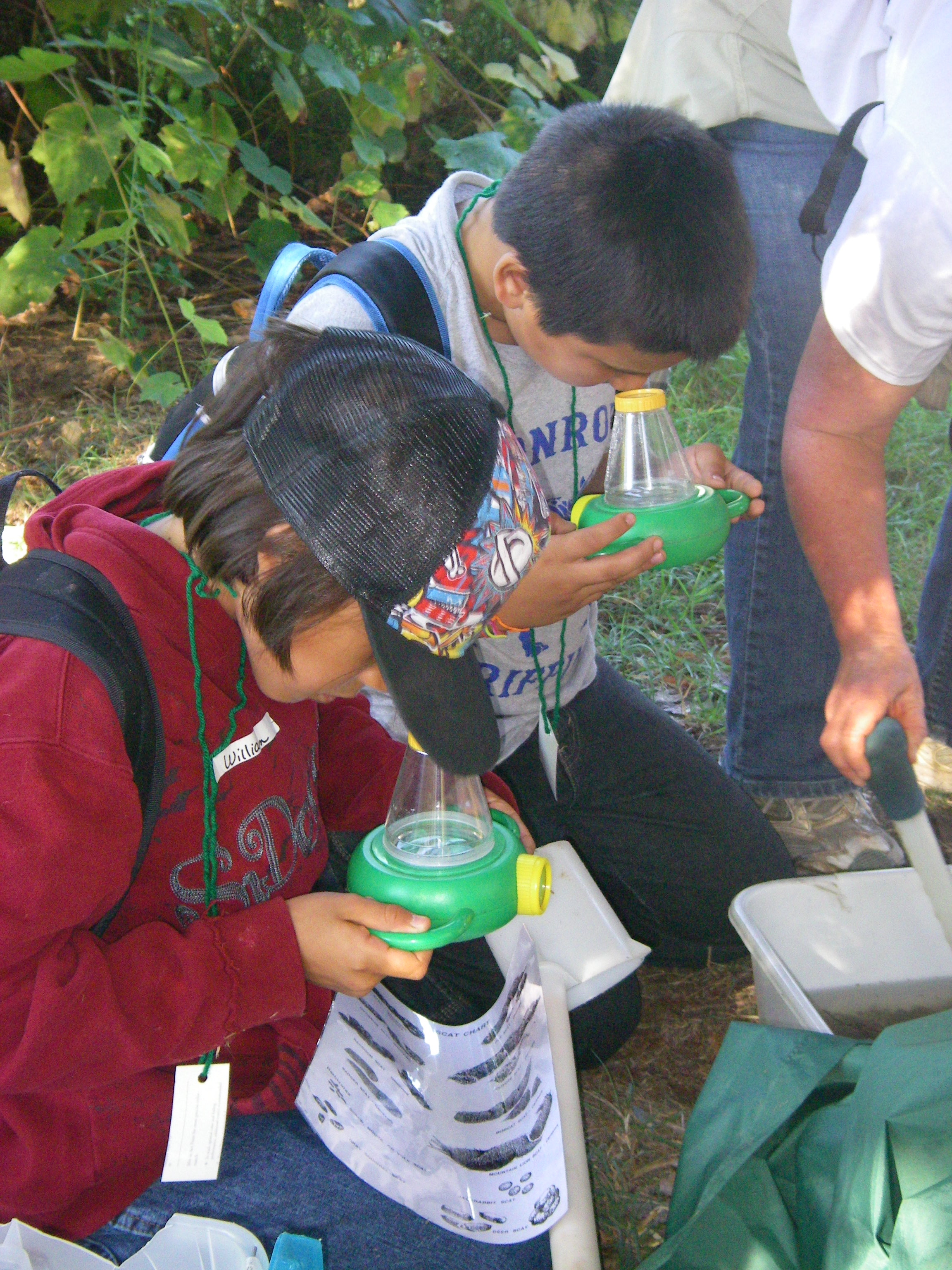 Photo by Dana Vallarino
"Thank you for this wonderful program which gives my students opportunities they would not otherwise have!"
–Monica Thompson
Steele Lane School
Laguna docents in the news!February 2015: Press Democrat
Laguna docents help connect school kids to nature

January 2015: Sonoma West Times and News
Laguna docents find satisfaction connecting kids with nature
Volunteer Docents
Learning Laguna Docents
Date: Docents volunteer year-round and especially in the Fall and Spring
Time: Docents teach during school hours. Classroom visits are 2 hours (usually in the morning) and field trips to the Laguna are 3 hours, also in the morning. After training, the time committment is approximately 20 hours in the spring and 20 hours in the fall.
Location: Schools within the Laguna Watershed and Laguna Preserves
Required Experience & Qualifications: Completion of the 70-hour training course offered every-other-year (Next course runs March-May 2019. )
Expand and share your love of nature and nurture the next generation of naturalists!
Docents lead groups of school children in the Learning Laguna program, a 2-part wetland education experience for 2nd-4th grade students. Docents visit classrooms throughout the Laguna Watershed with specially designed, hands-on, engaging activities, then lead those students on an experiential field trip to the Laguna the following week.
Becoming a docent is a fun and enriching way to
make new friends and contribute to the community!

Experts in biology, hydrology, natural history, cultural history and environmental education train Learning Laguna Docent volunteers in 10 lively classes.

Each training class includes presentations, discussion, and hands-on practice with the Learning Laguna activities, plus a field trip to special Laguna locations. Classes are Mondays from 10:00 am - 3:00 pm. Trainees also schedule extra time to shadow docents working in the classroom and on field trips to put all the course learning into context. Trainees receive a binder with reading and reference material that is closely tied with the theme of each classroom session. There is $145 fee to cover the cost of the materials. Payments can be arranged and limited partial scholarships are available.
Training Application Process...
1) Read more about the Learning Laguna program here.
2) If you are excited about the opportunity to become a docent, please complete and submit the training application.
3) Once submitted and received, you will be contacted with further information.
4) Review the 2017 course training schedule here for reference.
5) Plan to attend an orientations once they are scheduled (February 2019):
After training you will begin working with students in Fall 2019 Docents are asked to make a two-year, minimum 40 hour per year volunteer commitment to the Laguna Foundation. During that time, docents are expected to participate in elementary school classroom and field trips each Fall and Spring. Because the program is focused around the classroom, and school year, it requires that docents be able to volunteer during school hours (7:30-2:30), Tuesday through Friday. Docents are part of the Laguna Education Team which includes fun, opportunities for continuing education, special outings and social events with fellow education programs volunteers.

We invite you to join us for this rich and rewarding experience!
For more information or to find out of becoming a Learning Laguna docent is right for you, please contact Christine Fontaine, Director of Education Programs
Phone: (707) 527-9277 x102
Email: christine@lagunafoundation.org


[ top ]