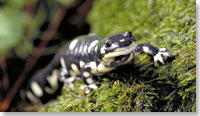 California tiger salamander
Ambystoma californiense
(photo by Gerald Corsi)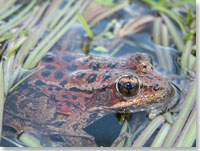 California Red-Legged Frog
Rana draytonii

Western Pond Turtle
Actinemys marmorata

2018 Dates Announced!

CTS Terrestrial Ecology Workshop
March 23, 2018

Rare Pond Species Survey Techniques Workshop
March 24-25, 2018
Registration information and instructions will be available soon and will be announced by email. To be added to the announcement email list, or for any other questions, please email Adrienne Gause.

CTS Terrestrial Ecology Workshop
This one-day workshop is designed to provide practical training to professional biologists, resources managers, and students on the terrestrial ecology, land use management, and regulations of the California tiger salamander (CTS).
The lecture session will include a review of the biology, upland habitat use, and migration patterns of CTS, the theory and design of roadway tunnels to facilitate safe passage of migrating salamanders; design of pitfall trap arrays; U.S. Fish and Wildlife Service and California Department of Fish and Wildlife approved survey protocols; and implementing and monitoring land use management practices. The afternoon will consist of field trips that will provide training and hands-on experience. A pitfall trap and fence array will be constructed by attendees. Three CTS tunnel systems along roadways will be visited and discussed.
Rare Pond Species Survey Techniques Workshop
This one or two-day workshop (depending on if you participate in the field trip on Saturday or Sunday) is designed to provide practical training on aquatic survey techniques for the California tiger salamander, California red-legged frog, and western pond turtle.
The range of these three rare and protected species overlap and they often occur in similar pond habitats. The lecture session will include a review of the biology and ecology of these species, identification of life stages, state and federal regulations, and approved survey protocols. The field trip sessions will provide field training in aquatic survey techniques, including dip net sampling for CTS larvae, evening spotlighting for frogs, and turtle visual encounter surveys and trapping.


About the Instructors
Dave Cook and Jeff Alvarez are experts on amphibian and reptile ecology and conservation, conduct herpetological research, and hold state and federal permits for three pond species.
Co-Sponsors
The Wildlife Project specializes in environmental compliance and technical field surveys. Specifically, assisting clients with mitigation development and monitoring, special-status species surveys and habitat evaluations, biological assesments, survey and monitoring technique development, and biological consultation.
The Laguna de Santa Rosa Foundation works to restore and conserve the Laguna de Santa Rosa, and to inspire public appreciation for this Sonoma County Wetland of International Importance.